...and re CAKE
The Cheesecake Factory/CAKE is a member of the favored Restaurant sector. CAKE had run up to a new chart high of 37 by March, but has since pulled back with the market. This pullback brings the stock back into oversold territory on its ten-week trading band, and close to initial support that lies at 30. On the upside, the first resistance is 37, while the bullish price objective is 48.

So this pullback has greatly improved the risk-reward ratio

. Besides (

sic

- dmg) this, CAKE is in an overall uptrend and is a 5 for 5'er, therefore possessing positive RS, too. The weekly momentum has been negative for 5 weeks already, and the daily momentum is close to turning back to positive. The daily trading band has curled up from oversold levels, too. Ok to buy CAKE here (30-32 range). We would use 29 as the initial hedge/stop point, as that would break a double bottom. Next support after that level would be 26.
What was that I just now noted re oscillations...?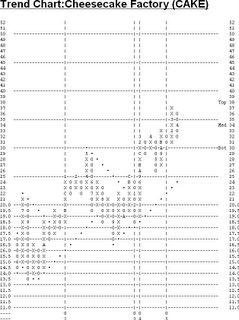 [click to enlarge]