Fleet of foot, but not ephemeral
Because jogging shoes quickly lose the spring in their step, Nike/NKE is arguably the poster child for the consumer non-durables sector, aka the chicken cyclicals. And yet its share price is anything but ephemeral, as it hovers just beneath its all-time high.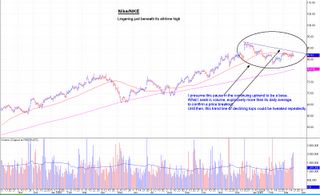 Nike/NKE is an example of tracking an opportunity ad infinitum waiting for the preponderance of evidence. It has the requisite set-up and trend, or 2 of the 4 aspects that I seek (price, volume, pattern/set-up, and trend). The breakout from this pattern (which I presume to be an intermediate term base within its long term up trend) would manifest a change in (price) direction. Volume, the handmaiden of price, would occur before and/or during the price breakout to confirm the action.
However, the breakout from this particular pattern likely will not occur for weeks, perhaps months. Until then, I wait and watch, not allowing Nike/NKE (and similiar opportunities) to drop off my radar screen. While waiting I take action elsewhere, such as purchasing Walgreen/WAG during the test of its 50-day sma (simple moving average).