Comments re CAKE from Dorsey Wright
Cheesecake Factory/CAKE ($34.10):
The main trend of CAKE is positive and the stock has three out of five technical attributes positive. The chart patterns show several classic patterns like:
A shakeout in September,

A triple top in November to complete that shakeout, and most recently

A double top at 33 to complete a bullish catapult formation.
In addition to completing this bullish catapult, the weekly momentum has flipped positive. Okay to buy CAKE here with a stop/hedge point at 29, a double bottom.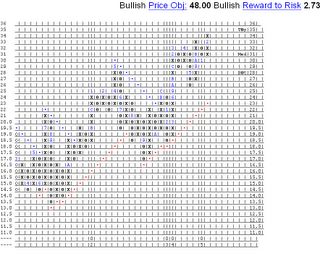 Comments above and chart (c) Dorsey Wright ~~~~~~~~~~~~~~~~~~~~~~~~~~~
Please visit a Cheesecake Factory near you (better, eat there), and note its attractiveness, its ambience, its food -- every item is yummy! -- and the long lines to get a table. This wait is true no matter which Cheesecake Factory you visit. I have had to wait at
The two in Las Vegas,

The one inside Macy's at Union Square in San Francisco,

The original location in Beverly Hills,

Newport Beach, Ca, and

Copley Place in Boston.
So here's the thing: what are the reasons you invest? Could these attributes (not solely the wait, but the other items noted above) be an indicator of sorts...?