Raindrops
Stocks do trade distinct from the parent company, no matter the amount of foreseen opportunity. An example would be Google/GOOG
.
I believe this specific opportunity to be especially exciting; nonetheless, the share price will do its own thing...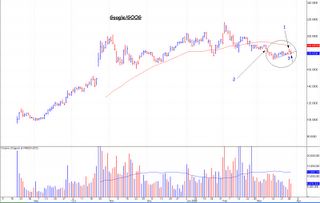 Yesterday, the shares rallied to key resistance (point 1) in a throw-back rally to the earlier breakdown (point 2) before reversing hard. Today, the share price breached its minor up trend line (point 3).
What does this mean for you? That more price weakness will occur in the short term while the shares build what I presume is a base in the intermediate term. The decline might exhaust itself at ~$170, ~$160, or even ~$140, but $180 is unlikely. I want to be clear: the low for the possible base is not yet in.
What could change this thesis? A sudden burst through and close above the 50 day sma; such action would translate this base as being one more of time rather than price (decline).

Nonetheless, this post serves as a warning of potential price risk. If you can see beyond the valley of ephemerally lower prices and prefer to hold, good for you. I sold my shares ~3 weeks ago, however, when support was breached (point 2); I reported this fact then. I prefer to have both cash and a clear mind - unsullied from worries about "how low it might go" - for a better price... and an even better value.